Welcome to Cricket tots Barbados!
Our cricket classes in Barbados for boys & girls aged 2 ½ – 5 years are run by Keisha Boyce and take place in St Michael.
Keisha is supported by a fantastic team – Chris Jordan, Cher King & Ramon Greaves – who have all have represented Barbados in some way in the disciplines of cricket and hockey.
Coach Jordan and Coach Boyce enjoy sporting careers that span over 15 years each, and are current members of the Sussex County & England Cricket teams and Barbados Senior Women's Hockey team respectively.
Coach Greaves and Coach King hold a Bachelors Degree in Physical Education and are games teachers at local private schools, with more than 20 years of experience in this field between them.

We think our Cricket tots coaches are all great examples of how nurturing talent at a young age can be beneficial!
Contact us
Guardian General Insurance Ltd
'Enfield House'
Collymore Rock
St. Michael
Our classes
Meet your local team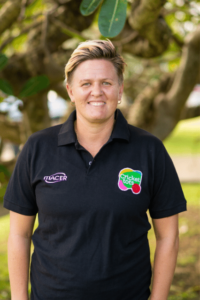 "Cricket tots is a class like no other. Over the last 12 months we've really seen Louis grow in confidence – he will now run off and join in happily. Seeing him master new skills is a wonderful experience."
Marie, Louis' Mum
Discover more about Cricket tots
Partnerships & Support